Train Depot Track Designer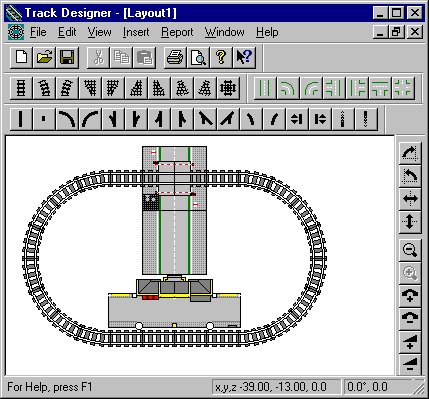 Track Designer is a Windows 95 program for designing layouts quickly and simply. You can use it to draw layouts you are planning to build, archive layouts you've already built, or design huge layouts that require far more pieces than you have in your collection!
Track Designer is very easy to use, you can add and remove pieces, cut, copy and paste using the clipboard, select and move whole sections of track, rotate and flip. A completed layout can be printed out on paper and large layouts will be scaled to fit on one piece of paper.
Track Designer has some additional features that you wouldn't get by using a paint program to design layouts. It automatically sizes the workspace to the size of the layout so you can add track in any direction. Reports tell you how many pieces of track you need and tell you the size of the space needed to build the layout. Short circuit detection is built in and an electrical view helps you track down the source of the problem.
Downloading and Installing
To download, read the Terms and Conditions and then go to the download page shown below. The package is stored as a ZIP file, so you will need PKUNZIP.EXE from PKWARE. When you have it downloaded to your hard disk, make a directory for it and unzip the package using

pkunzip td20.zip

You don't need to do anything else to make it run, just type TD, but you might want to add a shortcut icon on your desktop to the TD.EXE program.
Changes From Previous Version
This is version 2.0 of Track Designer, 1.0 was released in April '97. Version 2.0 is backwards compatible with 1.0, i.e., files generated by 1.0 will work with 2.0, but not the other way round.
Version 2.0 has many New Features.
Terms and Conditions
Track Designer Version 2.0 is provided free of charge for personal use only. You have royalty-free rights to redistribute original designs that you create with Track Designer. If you publish layouts on the Internet, please include a link to this website...
http://www.ngltc.org/train_depot
Track Designer Version 2.0 is not 'Shareware', you have no right to redistribute it in any form whatsoever, including, but not limited to, distribution on diskette, CDROM, Usenet Newsgroups, Internet Websites or bulletin boards, without the express written permission of the author.
Copyright of the individual bitmaps remains the property of Matthew Bates. The bitmaps may not be used for commercial or any for-profit purposes.
Go to Download Page
Click here if you want to download Track Designer 2.0.
---
Disclaimer
News
Bugs
Compatibility
Acknowledgements